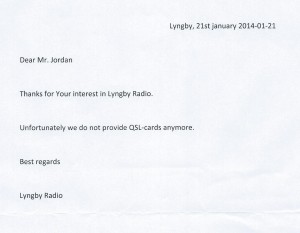 I promptly received this unfortunate and unsigned reply from coastal station Lyngby Radio, Denmark in 9 days for a report mailed to:
Lyngby Radio
Bagsvaerd Mollevej 3
2800 Kgs. Lyngby
Denmark
They used the mint stamps and address label that I supplied, and returned my report, souvenir postcard and blank envelope. Lyngby Radio is unfortunately no longer friendly to DXers, but at least had the courtesy to respond rather than ignoring my correspondence.