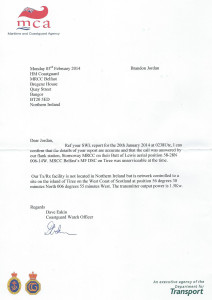 Belfast Coastguard
Isle of Lewis, Scotland, UK
2187.5 kHz
Belfast's MF DSC at Tiree Island was unserviceable so the the DSC call was answered by MRCC Stornoway transmitter at Butt of Lewis. They station mentions that their TX/RX facility is not located in Northen Ireland but rather on Tiree Island in western Scotland.
Date/time QSL letter in 22 days for English language report, souvenir Tennessee postcard, mint stamps, envelope and address label. v/s Dave Eakin, Watch Officer.
Address:
HM Coastguard
MRCC Belfast
Bregenz House
Quay Street
Bangor
BT20 5ED
Northen Ireland