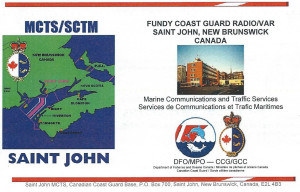 Fundy Coast Guard Radio/VAR NAVTEX QSL
Chebogue, Yarmouth County, Nova Scotia
518 kHz
1 kW
Reverse: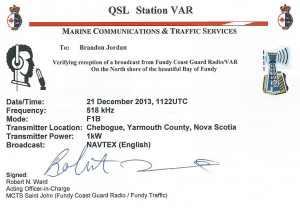 Full-data card in 175 days for English language report, SASE and souvenir postcard, v/s Robert N. Ward, Acting Officer-in-Charge.
Mailing address:
Saint John MCTS
Canadian Coast Guard Base
P.O. Box 700
Saint John, NB E2L 4B3
Canada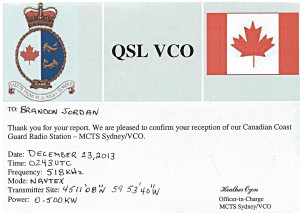 Canadian Coast Guard Station – MCTS Sydney/VCO QSL
Port Caledonia, Nova Scotia, Canada
518 kHz
Full-data QSL card and detailed letter in 87 days for English language report, souvenir postcard, mint stamps, address label and envelope, v/s Heather Ozon, Officer-in-Charge.
Mailing Address:
MCTS Sydney/VCO
1190 Westmount Road
Sydney, N.S.
B1R 2J6
Canada