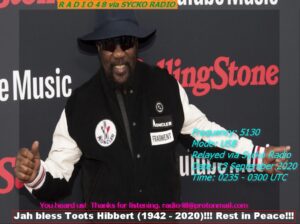 Radio 48 via Sycko
North American Pirate
5140 kHz USB
Full-date eQSL in less than 24 hours after broadcast via report on HFU. Very nice! Program was a tribute to Toots Hibbert of the legendary Toots and the Maytals reggae band. Toots passed away yesterday in Kingston after a battle with Covid. The show also consisted of some Kracker's old Radio Jamaba Int'l material which was pretty awesome.
Thank you, thank you very much!